Welcome to the website of  
VolosVipTaxi Servive
 relating to passenger transportation by 
taxi in Volos
 and to any destination in Greece. Come with me to guide you on the best Volos Vip Taxi in Volos Greece, with the guarantee of a recognized prosfessional driver from the business and travel passengers. Volos Taxi Services in Volos of Greece and expert driver with a Sedan Mercedes S Class &
Mercedes Vito 9seater
. We offer you
luxury
vehicles
with driver and emphasis on cleanliness and safety.
Exclusive
services for couples,
families
, friends or colleagues who want to stay together throughout the journey.
Our vehicle..Mercedes Banz S Class Long
Luxury, comfort, heritage, premium, full leather interior, safety, technology, Tv, DVD. These are only some of the terms that stand for the Mercedes-Benz S-Class.
It offers you effortless driving pleasure and is the quality benchmark for all sedans.
Lightweight, nimble and efficient – Airmatic® enhances handling and performance in any season. The benchmark for a fine and VolosVipTaxi limousine service or luxurious airport transfer.
Konstantinos Skalimis & VolosVipTaxi Team
My name is
Konstantinos Skalimis
, I'm 45 years old and I have been a
professional
driver in
Volos
, Greece for over 23 years. My family and I lived many years in Hannover, Germany.
My father was a professional taxi driver too. and also being a host. What is more, I speak Greek ( also German & English )and I can translate for my customers.After returning back to Greece.
Taxi from/to Volos Athens International Airport
I offer reliable passenger transport services by taxi from Athens to Volos where it is the third largest port in the country and has daily itineraries to Sporades: Skiathos, Skopelos Alonissos.
The service is possible for those who want to go from Athens airport to Volos in the fastest way.
You don't have to bother searching for tickets at bus stops, wasting your time and risking not catching the bus.
I'm always on time for our appointment to pick up wherever you want.
Taxi from/to Volos Thessaloniki Makedonia Airport
Volosviptaxi allows you to move quickly, reliably and safely from and to:
Macedonia Airport Thessaloniki as well as the city of Thessaloniki for Hospitals, Clinics, Museums, Hotels and other destinations in the city.
Avoid waiting and the hassle of public transport or the risk of being charged and trusting Volosviptaxi for your transfer from / to:
Thessaloniki Airport, the port of Thessaloniki and any
Mini Van Taxi Service - 9seater Mercedes Vito
MiniMiniVan En van Taxi in Volos 24/7. It is addressed to groups or families of 6-8 people with 8-10 luggage depending on their volume. In no case is it inferior to other vehicles.
Mercedes Vito and has a high level of active and passive safety, is fast and flexible with the possibility of easy access to both ports and marinas and the narrow streets of Volos & Pelion.
Practical and at the same time comfortable with high quality construction and in combination with our experience it is ready to lead you to moments of enjoyment.
Our desire and purpose is to offer you high level services for your comfortable and safe movement, with the best prices.
It will be our honor and pleasure to select us and get to know the level of our services.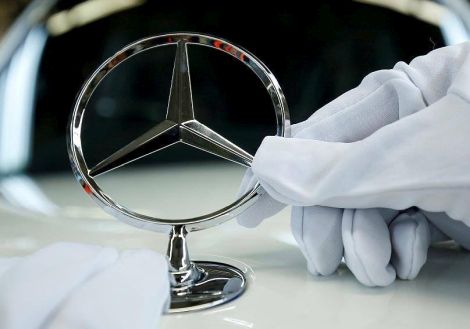 Volos Vip Chauffeur Service in Volos
Volos Vip Taxi can provide discrete and understated VIP Chauffeur and Ground Transportation Services in Volos and throughout Greece for all Discerning Passengers, Dignitaries, Celebrities and VIP's.
We are the leading Luxury Chauffeur & Limousine service in Volos and in Selected destination in Greece.
Volos Vip Taxi provides Regular & Executive Chauffeured Services, Airport transfers, On-Call requests or 12hr and 24hr Stand By (Disposal) Services for your Business, Corporate or Private travel. Available around the clock, im German & English-speaking Proffesional driver…
VolosVipTaxi.gr gives you the opportunity to make the appearance of your life, reaching the church with the luxurious Mercedes S Class Long Limo.
Impress your guests and feel like a celebrity! You will be able to move to the church and later to the reception area in absolute ambiance with your personal coach dressed officially!
This package is ideal for brides who know how to make their day even more special!
The ultimate experience to give your special day the glamor it deserves…
Taxi Service / 24 Hours / 7 Days a week / 365 Days per year / Booking Online
The most popular daily trip from Volos with taxi is the monasteries of Meteora.
The area of Meteora was originally settled by monks who lived in caves within the rocks during the 11th Century.
But as the times became more unsure during an age of Turkish occupation, brigandry and lawlessness, they climbed higher and higher up the rock face until they were living on the inaccessable peaks where they were able to build by bringing material and people up with ladders and baskets and build the first monasteries.
"Of course we do" he replied."Whenever it breaks"…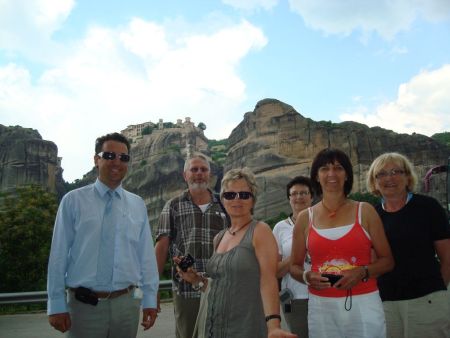 The most reliable and cheapest transport services in Volos.
Macedonian Kingdom of Alexander the Great and Philip II
We will start our day trip with our Taxi from Volos to Verginα early in the morning, driving North from Volos on the national road and passing by the cities of Larisa, Vale of Tempe, Katerini & Verιa continue our drive to northen site of the famous mountain Olympos. Soon we reach the beautiful village of Vergina.
Get to know the imperial capital, the ancient city where Alexander the Great was born and raised and where the great philosopher and tutor Aristoteles was invited to educate him.
The archaeological treasures of the glorious Macedonian Kingdom of Alexander the Great and his father Phillip II of Makedon, as detailed by Herodotus, invite you to a unique roadtrip to history.
The excursion travels you to the ancient greek, byzantine and modern history bringing back in light the lost prestige of Aigai, the first city of the Macedonians.
Discover the museum of Aigai; a World Heritage site of UNESCO, against the natural beauty of the area and the view of the Macedonian plain that travels our eye till the end of the horizon.
Daily trip to Oracle Delphi from Volos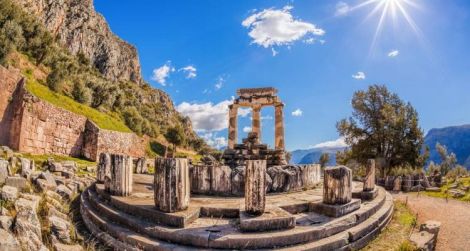 Delphi day trip is one of the most popular Top Greek Attractions.
The visitors have the chance to do a trip back in the history from the Historical times until the Modern times because we can do a combination with visiting at the monastery of Hosios Lukas who is one of the most important in Orthodox Christian faith.
We will start our day trip with our Taxi from Volos to Delphi early in the morning, driving south from Volos on the national road and passing by the cities of Lamia, Amfissa, continue our drive to Mt Parnassus. Soon we reach the beautiful village A rachova. It is the most popular winter destination due to the largest ski center in Greece which is nearby.
Only two hours away from Volos we reach Delphi, the place where ancient Greeks believed was the navel of the world. Its sanctuary and the Manteion with its oracles actually defined the course of ancient Greek history.