The most reliable and cheapest Taxi Service in Volos
Taxi Service / 24 Hours / 7 Days a week / 365 Days per year /
Taxi Service – Transfer  from/to Volos Greece

We provide private Taxi Service, safe and reliable transport.

Taxi Service to and from Airport / Port / Hotel / Address.

One or more days to archaeological sites and tourist attractions.

Always willing to serve you and bring you to and from your destination.

With Mercedes luxury Taxi, professional and friendly drivers, have vast knowledge of Greece history.

We also undertake professional transport, including conferences, events and sightseeing of Volos Magnesia.

Provide private taxi service 24 hours, 7 days a week, 365 days a year.
Volos is a tourist orientated place where Charter airplanes land , the price is 15% cheeper with us.

Booking with us in advance will guarantee that there will be vehicle waiting for you.

We will follow any delays in your flight or ship and you can be sure that we will be there on your arrival time.

No need to queue for taxi or drag your bags around searching for public transportation.

Your transfer has a fixed price.
If you are a business traveler then we are your partners during your stay.

Pre Book with us, as to ensure that you will have no delays to your appointments.

Local or long journeys, our experienced drivers will always be there to assist you in getting you to your destination on time.
Vip Taxi Service in Volos
Volos Vip Chauffeur Service in Volos
Volos Vip Taxi can provide discrete and understated VIP Chauffeur and Ground Transportation Services in Volos and throughout Greece for all Discerning Passengers, Dignitaries, Celebrities and VIP's.
We can handle all exacting procedures and protocols that accompany VIP arrivals and departures to and from Volos and other destinations in Greece. Our Chauffeurs in Volos will transfer you seamlessly between your Villa, Hotel, Beach, Restaurant, Club and your chosen Airport facility.
We are the leading Luxury Chauffeur & Limousine service in Volos and in Selected destination in Greece.
Volos Vip Taxi provides Regular & Executive Chauffeured Services, Airport transfers, On-Call requests or 12hr and 24hr Stand By (Disposal) Services for your Business, Corporate or Private travel. Available around the clock, im German & English-speaking Proffesional driver, i have a strong knowledge of Volos, Athens, Delphi, Vergina, Pelion, Nafplio, Olympia. Meteora and more
VolosVipTaxi.gr gives you the opportunity to make the appearance of your life, reaching the church with the luxurious Mercedes S Class Long Limo.
Impress your guests and feel like a celebrity! You will be able to move to the church and later to the reception area in absolute ambiance with your personal coach dressed officially!
The luxurious MERCEDES S CLASS LONG Limo boasts space for 4 people, leather seats creme TV screens, CD / DVD, excellent sound system, water, soft drinks and drinks.
This package is ideal for brides who know how to make their day even more special!
The ultimate experience to give your special day the glamor it deserves!
With us there are no intermediaries.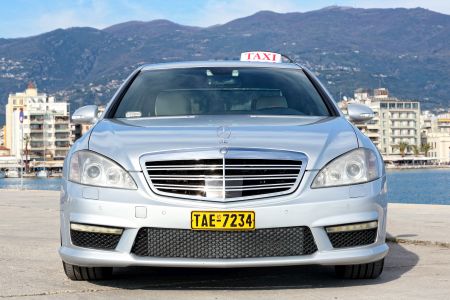 If you are looking for a personal taxi driver in Volos you are at the right place. I undertake transfer to Volos to any destination as well as throughout Greece.
In more detail, I undertak transfers from/to Nea Anchialos ( Volos ) Airport, Athens International Airport, Thessaloniki Makedonia Airport, the port of Volos, the port of Piraeus and the port of Rafina where I am constantly informed and receive information on the exact time of .
I also undertake your travels from hotels, restaurants, exhibition centers, conference rooms and homes where upon arrival you will be notified immediately so that you can quickly board and go to the points of interest.
Once you arrive at your destination, if you wish, I can stay with you for as long as it takes to proceed to your next destination, your business appointment or even your tour.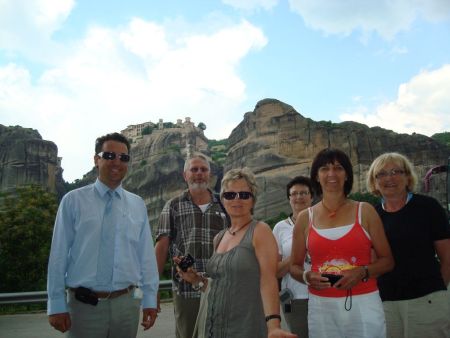 The most popular daily trip from Volos with taxi is the monasteries of Meteora.
The area of Meteora was originally settled by monks who lived in caves within the rocks during the 11th Century.
But as the times became more unsure during an age of Turkish occupation, brigandry and lawlessness, they climbed higher and higher up the rock face until they were living on the inaccessable peaks where they were able to build by bringing material and people up with ladders and baskets and build the first monasteries.
This was also how the monasteries were reached until the nineteen twenties and now there are roads, pathways and steps to the top.
There are still examples of these baskets which are used for bringing up provisions. Back in the days when these baskets were the only way to get to the monasteries a nervous pilgrim asked his monk host if they ever replace the rope.
"Of course we do" he replied."Whenever it breaks",
VolosVipTai as a high standards private transfer company, takes your professional life very seriously.
That's why it undertakes to transfer business executives in a reliable and safe manner, in order to serve any kind of their professional activity.
Trust VolosVipTaxi Service in Volos Greece and do your business calm !
Your booking are made directly in the cooperating taxi and for this reason, we can offer the lowest prices.